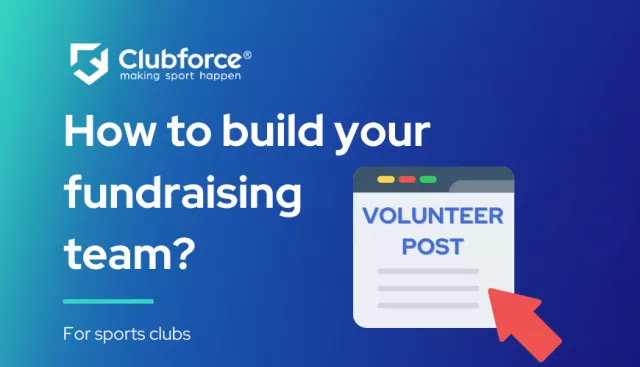 Finding people to join your team is something every organisation worries about. Whether you're a small grassroots sports club or up to a professional league, finding the right people to join your team is critical to your success. To help navigate this maze of individuals, we've curated some ways to identify the right people and build your fundraising team.
Have a goal in mind
Having a vision of what you want to achieve out of your fundraising will help you determine what type of person you're looking for. Different types of fundraising activities call for a variety of people with multiple skill sets. Do you need someone who is:
an expert at organising events?
tech savvy to manage your online fundraising?
knows social media?
is reliable and good at handling money?
knows how to engage with people?
is a creative thinker who comes up with new fundraising ideas?
The list is endless! So, start with where you want to go, and then you'll know who's the right person to join you.
Be clear on what the role is
When you're searching for the right member to join your team, like any job role, you have to be clear on what your expectations are and what the position involves. When you set a clear volunteering role description, it makes it easier for the volunteer to visualise themselves in this role.
Typically, a good communications/fundraising officer is someone who knows their way around social media, is generally creative, and is well organised since they'll be dealing with multiple communication channels.
See this example of Shelbourne FC promoting its Social Media Administrator volunteer role: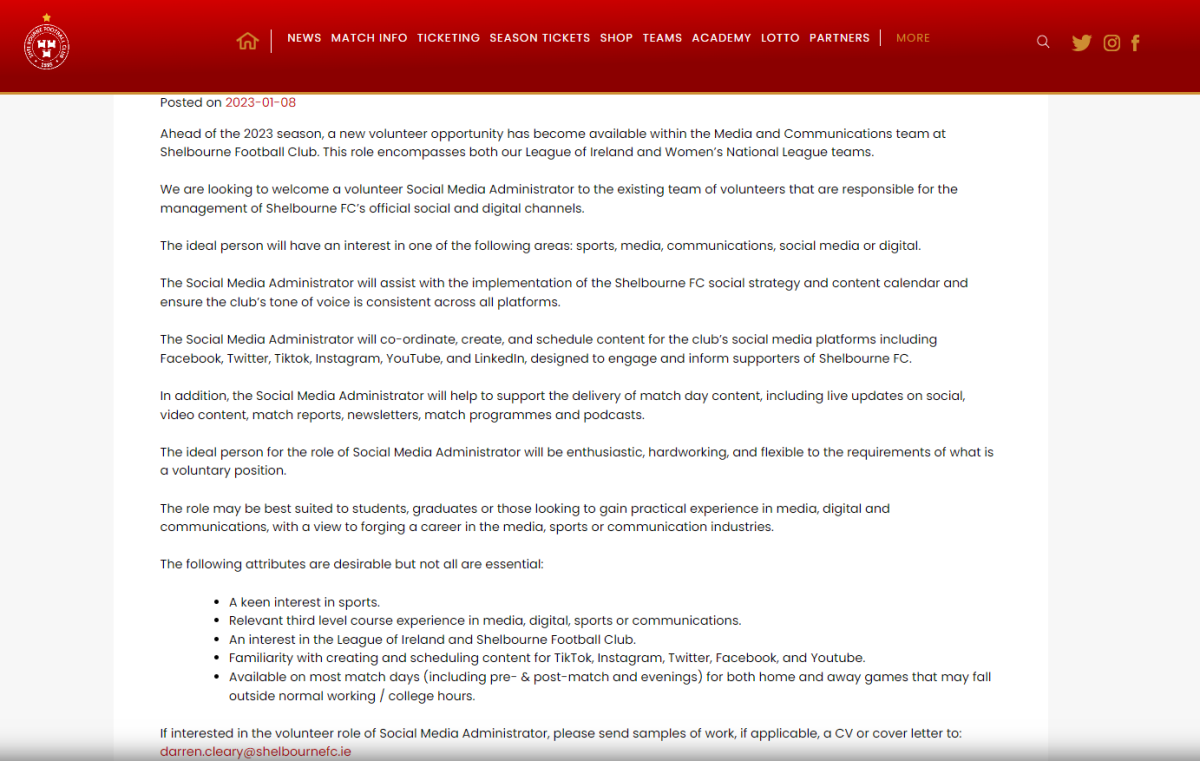 Look throughout your community
You never know the golden nuggets you might find within your community. Engage with your club members and wider supporters to make it known you're looking for someone to join your team. Many of your closest supporters would love to jump at the opportunity to help your club. If you don't actively engage and promote your community, your members might not know a position is available.
Clubforce Core membership includes a custom registration form builder. Many of our clients use this as a way to capture volunteers interested in helping your club and the skills they have right at the first step of their journey.
Promote your efforts
Nowadays, promotion is everything! It's not enough to simply send out a single email and leave it at that. People are consuming so much media on a daily basis, your email can easily get lost in the sea of media. Make sure to use multiple channels to promote your open volunteer role.
Make sure you cover all your communication channels like:
Creating a graphic to capture people's attention on social media
Add a section of open volunteer roles within each email you send
Engage with your sponsors and see if they can offer any resources
Add your open volunteer roles to your website
Make it easy to contact you
In this day and age, convenience is everything. As with anything you post online, always remember to include a call to action (a link, an email address, or a phone number) to direct your audience to the next step you want them to take. You will have little success if you promote your open volunteer role without a way for someone to follow up! If you make it as easy as possible to volunteer for your club, you're more likely to gain more interest in your open role.