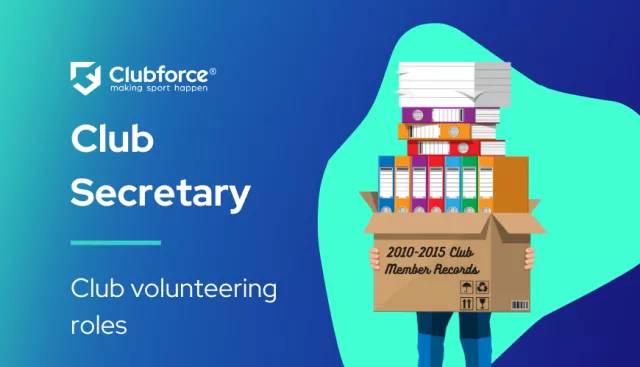 Clubforce is publishing a series of articles on the roles club volunteers can play at their local sports clubs, looking firstly at the club officer roles and then at coaches and other volunteering roles. If you are new to a volunteering role at your club or if you are considering contributing to your club as a volunteer, this series may prove useful in assessing which role would suit you best.
What is the Club Secretary?
The primary role of the club secretary in an amateur sports club is to provide administrative support to the role of chairperson. Much of the hands-on administrative effort may be delegated to other club officers and volunteers, but responsibility for ensuring the overall, well-run club administration lies with the Secretary.
What are the duties of the Club Secretary?
The role of club secretary is a pivotal one in any sporting organisation and as a result is one of the most time-consuming roles in a club – the secretary must work in tandem with the chairperson and also regularly works with the club registrar, treasurer and PRO in various ways. The club secretary is also responsible for coordinating, announcing and minuting club meetings such as the club AGM.
Club Secretary's role at a glance
Below are some of the common tasks undertaken by the Secretary – some or all may apply to your club depending on club size, sport etc.
Organising meetings
Plan club meetings with the chairperson and agree an agenda with all club officers
Circulate details of meetings (time, location, agenda etc.) to club members
Take minutes and circulate to meeting attendees
Follow-up with relevant parties on key actions arising from meetings
Ensure meetings adhere to procedures of the club constitution (e.g. quorums and election procedures)
Club Correspondence & Communication
Initiating and responding to all club correspondence (dealing with queries, official NGB correspondence etc.)
Filing all club correspondence (incoming & outgoing)
Adhere to Governing Body rules on communication (e.g. format/timing of response to written communications)
Work with club PRO to ensure broader public awareness (and availability) of club correspondence (as appropriate)
Compile report on club activities for AGM
General Administration
Managing club membership, registration and team affiliation (in conjunction with club registrar)
Keeping an accurate record of contact details for members, officers and third parties
Handling club insurance and related paperwork (e.g. filing of injury claims)
Maintain appropriate records of membership and communication and club documents such as the club constitution
Assist the Chairman in strategic planning of ongoing club development
What are the typical traits of a club secretary?
Club secretaries undertake and coordinate a wide variety of tasks and as such should be very well organised. A high standard of verbal and written communication are also important as are a knowledge of running effective meetings. The role of club secretary requires real dedication and detailed knowledge of applying and adhering to the rules of the club (see club constitution) and those of the governing body.
The role of the secretary is a high profile role and has a major influence on the overall efficiency and organisation of the club and co-ordinating different volunteering roles. This requires a considerable degree of flexibility (e.g. taking phone calls during their working day) and as a result, this may suit people who operate their own businesses or people who work part-time.
How does Clubforce help the role of secretary in a club?
A single membership record accessible by different volunteering roles takes a considerable burden off the club secretary who might otherwise be the go-to person for a multitude of member-related queries. The Clubforce desktop admin panel and mobile app makes it easier for registrars and coaches to work together and allow treasurers to see real-time financial data based on membership's processed which in turn reduces queries to the registrar and club secretary. Communicating details on meetings (time. agenda etc.) can be done through the group communications app and recipients can confirm attendance at meetings by responding to app notifications.
Clubforce has built-in advanced filter reporting panels to help find the information secretaries need for AGM meetings easily and reliably. Request a demo today!