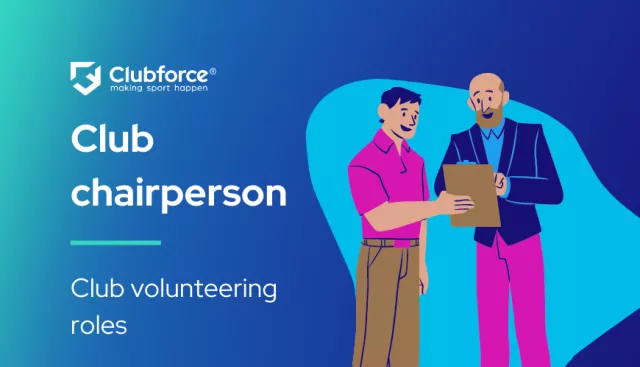 Clubforce is publishing a series of articles on the roles club volunteers can play at their local sports clubs, looking firstly at the club officer roles and then at coaches and other volunteering roles. If you are new to a volunteering role at your club or if you are considering contributing to your club as a volunteer, this series may prove useful in assessing which role would suit you best.
At Clubforce we volunteer with sports clubs from a volunteer level up to chairmen. Explore more in the Club Volunteering Roles series:
Who is the club Chairperson?
The chairperson is typically the most senior official role in amateur sports clubs and fulfills a range of duties dealing with the overall management of club affairs. The chairperson leads meetings and sets out a strategic plan for the overall development of the club in the medium to long term.
What are the duties of a club chairperson?
The chairperson is responsible for the overall long-term direction of the club and would lead special projects such as planning the development (or redevelopment) of a clubhouse, pitch or other club facility. This would involve devising and documenting a club development plan covering things like current club status and desired future status, project objectives and timelines, fundraising targets and initiatives, capital grant applications, planning applications, tendering and contracts.
The role of chairperson has responsibility for upholding the club constitution and ensuring player welfare is looked after and takes overall charge of driving ongoing participation in the club at all levels.
Role of a chairperson in a sports club
The following is an overview of the tasks fulfilled by a club chairperson:
Overall organisation and running of the club including promotion and club development
Chairs meetings including regular committee meetings and the club AGM
Strategic planning and key decision-making duties
Uphold Club Constitution and National Governing Body regulations
Delegating, leading and motivating club volunteers towards club goals/objectives
What are the typical traits of a club chairperson?
The role of chairperson is usually filled by people experienced in positions of leadership in their careers e.g. business owners, senior project managers, or senior business managers. The chairperson needs to be a good communicator, a strategic thinker, and someone who is able to delegate duties to different volunteers successfully and motivate those volunteers to serve the best interests of the club.
To find out more about what Clubforce can do for the club chairman, click here or you can request a demo today!